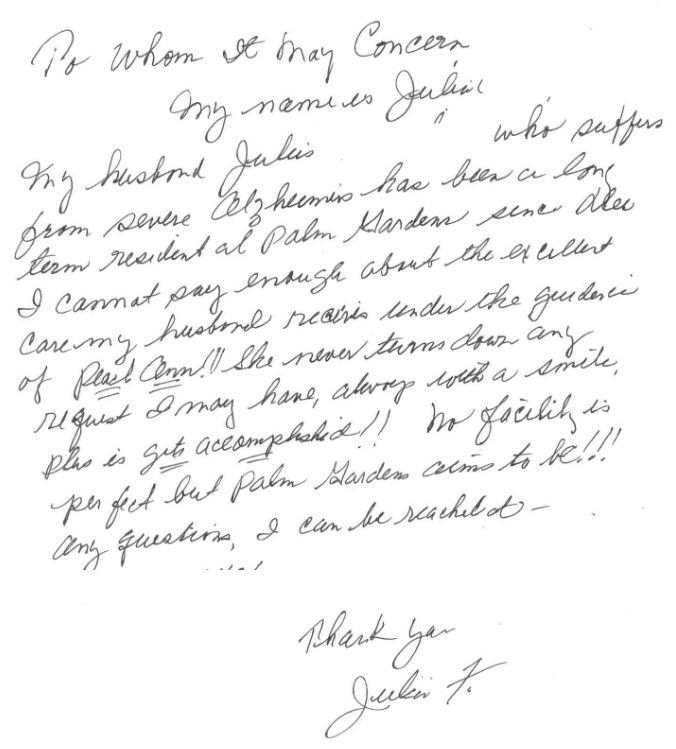 Dear Ms. Taylor,
I am writing to tell you that Ana, one of the nurses' aides who works evenings, does an exceptional job. She is always busy, pleasant and helpful. She took such good care of my husband, Peter. She certainly made his stay with you better.
Thank you for all you do.
Dear Ms. Taylor,
I am writing about Thalia, one of the nurses' aides on the first floor. She is always smiling and cheerful and makes life better for the patients.
Thank you,
Michelle
Cordial salutations,
The truth is, we always look at the negative things in the institutions and we are constantly complaining; but very few times we see the positive, as is the case in an institution like Palm Garden; dedicated to the care of the elderly people; to make the best of their last years as possible. Like all entities, there are details that need improvement, but they are small in comparison to the total care and dedication. Of all the staff dedicated to their work, we would like to mention "Nurse Ginette" as she stands out for her dedication and commitment.
Sincerely,
The family members of Mrs. Juana M.
Signed by Concepcion M.
Through the warmth and kindness of special people like you. We, the family, would like to extend our deepest thanks regarding the excellent care and service our patriarch Julio F. received at your facility. Your friendly and attentive staff made his final days comfortable and that brought him joy. Thank you and God bless.
Loving regards,
The Julio F. family